Your first-time tandem skydiving is an experience like no other! The excitement, adrenaline, and emotion you will feel are unmatched. Relive it again and again with an HD video and stills of your experience and share it with your friends and family.
Whichever video or stills package you choose, your skydiving footage will be emailed to you for direct download to your device via the cloud!
Red Carpet Video Example
$189.00
(Red Carpet Super Star - HALO $209)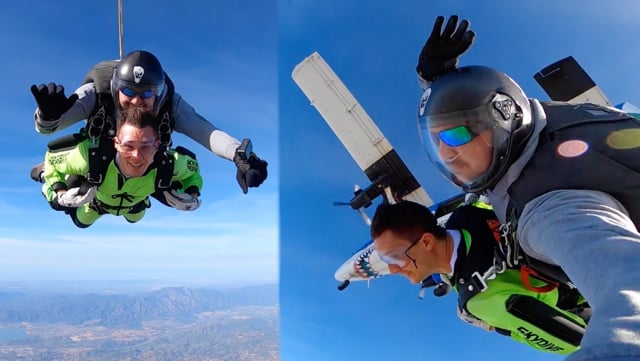 Red Carpet Package
A popular choice for some of the most elite socialites is The Red Carpet Package. Ask any Hollywood director in Los Angeles and they'll agree you can never have too many cameras rolling. With the Red Carpet Package you'll get all the HD video and stills taken by your personal videographer provided with the Hollywood Package AND the HD footage and stills from your Selfie video taken by your instructor. The Red Carpet Package combines both the Selfie and Hollywood packages and everything they include. Signing autographs after will be up to you! Get the Red Carpet Package and relive the thrill of skydiving Los Angeles over and over again from multiple camera angles!
Hollywood Video Example
$169.00
(Hollywood Super Star - HALO $189)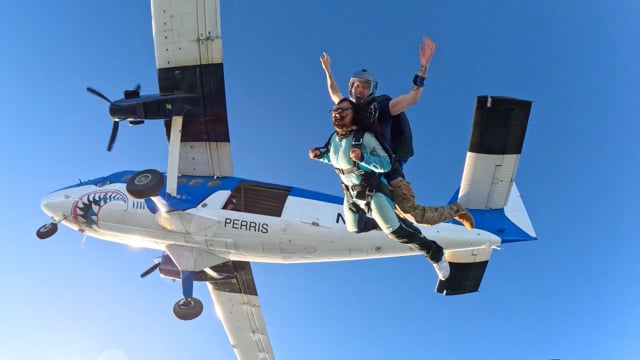 Hollywood Package
It's lights, camera, and plenty of ACTION when you choose our Hollywood package for your video option. You'll have your very own personal videographer who will interview you before the jump, be your personal entourage on the ride to altitude, and then actually jump out with you and your instructor while flying right in front of you capturing every second of California's hottest skydiving premier featuring…YOU! After you've landed and before the credits roll your videographer will do a post jump interview and also provide you with 50-80 High Resolution still photos to accompany the High Definition footage taken of you in your starring role as Skydive Perris' newest skydiver. We'll email it directly to you and upload it online for easy sharing with your agent, family, and friends.
Selfie Video Example
$89.00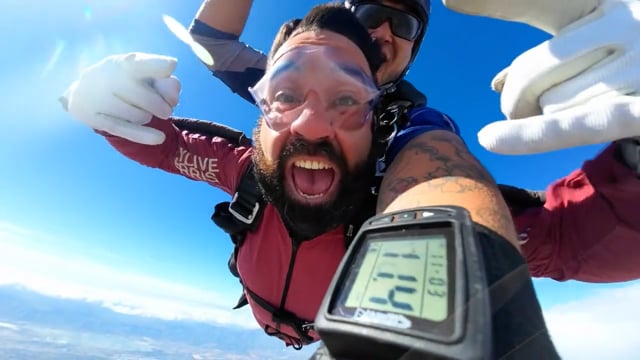 Selfie Package
You're about to jump out of an airplane…what do you do? SELFIE!! Capture that first incredible step out of the plane, the excitement of freefall and the serenity of parachute flight all recorded in HD from a camera mounted on your instructor's wrist. This is truly the ultimate "Selfie"!! We'll email the footage to you and make it available online so you can share your Los Angeles-style skydiving experience with your family and friends.