AFF Skydiving (Accelerated Freefall Skydiving)
Our accelerated freefall (AFF) skydiving course is a 7 level program designed to fast track you to learning to skydive solo and achieve the dream to learn to skydive! After completion of our AFF First Jump Course (FJC), anyone can jump without being attached to an instructor on their very first jump! No previous experience is necessary as we will teach you everything necessary for your first successful solo skydive.
After completion of the AFF First Jump Course 4-6 hour ground school, you'll jump from 12,500ft, freefall for almost a full minute, deploy your parachute at 5,000ft and then and be guided safely back to earth by our USPA instructors for landing.
The AFF Skydiving First Jump Course is not available on Tuesdays
Once you've successfully completed your AFF Level 1 jump you can continue to progress in our AFF program and earn your solo skydiving license.
At Skydive Perris, students have the unique opportunity to learn from some of the most elite skydivers in the world who are as passionate about helping you achieve success as they are about the sport of skydiving.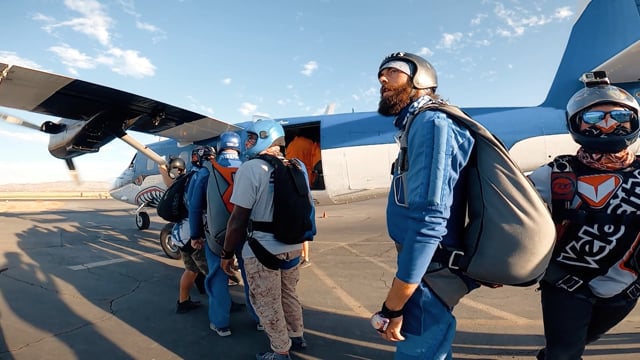 AFF First Jump Course Requirements
Must be at least 18 years of age.
Maximum weight limit is 240 lbs. (no exceptions)
Must have good understanding of English. (Spoken & Written)
Some medical conditions may require a doctor's note.
Any prior shoulder dislocations require written permission from your doctor.
Must bring valid government issued photo ID showing your date of birth.
AFF students height must be proportional to their weight. Students weighing over 220lbs must call us to make their reservation.